Organisation Feature: Man About A Dog
Healthwatch Stockport takes a look at Man about a Dog (MaaD) a group set up to keep in touch with other suicide survivors.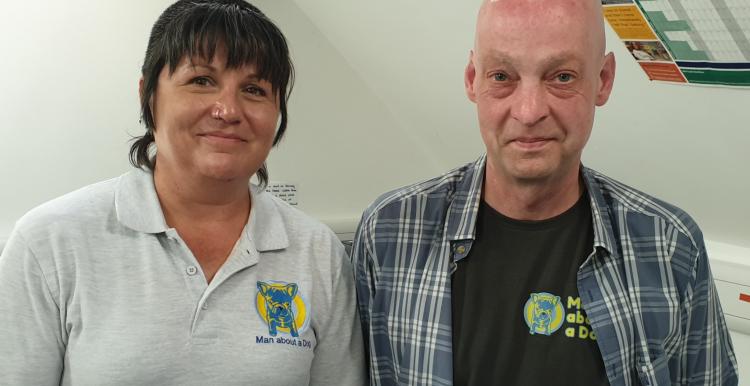 The group's definition of a survivor is very broad including people who have attempted, people who have thought about attempting in the past and people who are considering attempting now. MaaD are also happy to speak to anyone who knows someone who has attempted suicide and survived and want to know exactly what that person is going through and why death is desirable.
 
The group set up by Chris Platt and Rachel Campion are bother survivors themselves and have experienced the traumas and practical difficulties that follow from surviving an attempt.
Chris Explains
"The project aim is to help survivors manage surviving and to show them that this can be achieved, but that it is easier to achieve when the survivor realises that they are not alone in facing these difficulties.
We believe that suicidal thoughts can be managed with the right support and conversations.  We can not only 'survive surviving' but can lead happy and fulfilling lives by accepting that we tried to kill ourselves and that this is not wrong or shameful.
Suicidal thoughts and attempts are extremely common. Around 120 suicide verdicts are recorded every week for men and women.  For every verdict, there are around 25-30 attempted suicides that come to the attention of services.  This means that there are a staggering 3,000 suicides or attempted suicides each week.  These statistics don't include the many attempts that go unreported or are not even spoken about with close family and friends.
You are not on your own.  Your thoughts and feelings are common to men and women of all ages and backgrounds.  Everyone at MaaD is different but we share similar experiences and ways of thinking.  Please get in touch with us if you think we can help you or someone you know."
For more information 
Man about a Dog, Stockport Progress and Recovery Centre (SPARC), 35A Adswood Lane East, Stockport,  SK2 6RE
07706115471
ManAboutADog2 - twitter
ThatManAboutaDog - facebook