Speak up and help improve health and social care services in Stockport #SpeakUp2020
What should be our key priorities for this year? Tell us about your experiences of health and social care, and the changes that you would like to see made in Stockport, in our online survey. #SpeakUp2020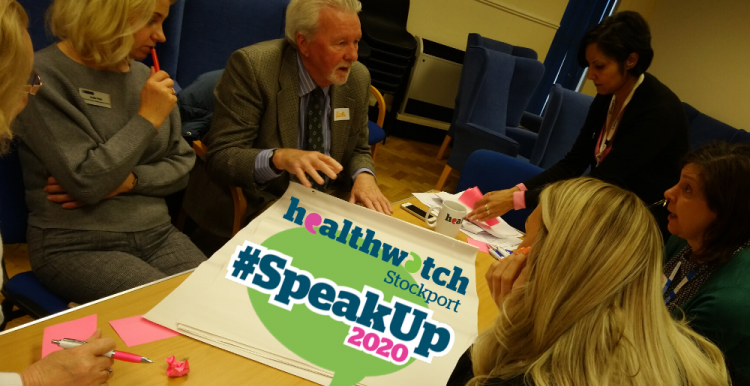 At Healthwatch Stockport, We're here to help make health and care better. We do this by listening to your experiences of services and working with health and social care services to make the changes you want to see.
We all love the NHS and social care services, but it can't improve without your help. That's why we're running a campaign from the 13 – 19 January called #SpeakUp2020, encouraging you to share how health and social care services could support you better.
Last year more than 300 people spoke to Healthwatch Stockport about their experiences of health and care services. This feedback has been used to identify the most important issues in Stockport. These are:
Dementia
End of life care
Mental Health
Services for young people.
So what are we doing about it? 
We're calling on more people to share their views and experiences with us. We all love the NHS and value the support that social care services provide, but they need to hear from the people who use them about how they can improve. 
We want to know about your experiences at all stages of care, including:
How easy was it to access the help and support you needed?
What was your experience of care like?
How did you feel about the further treatment, care or support you were offered?
It only takes five minutes to speak about what's worked and what can be improved, you can help future services improve care for you, your loved ones, and your community. It's that simple.
How to get involved
You can share your views with us by:
Of course, if you would like to join in the conversation online to help us spread the message you can find us on Twitter @HWStockport and Facebook at facebook.com/healthwatchstockport and join in with #SpeakUp2020.
Healthwatch Stockport are holding a #SpeakUp2020 network event on Monday 24th February 2020 to discuss next year's key priorities, for more information please contact us on 0161 974 0753 or follow the link below.