Organisation Feature: Motor Neurone Disease Association - Manchester & District Branch
Healthwatch Stockport take a look into the Motor Neurone Disease Association - Manchester and District Branch.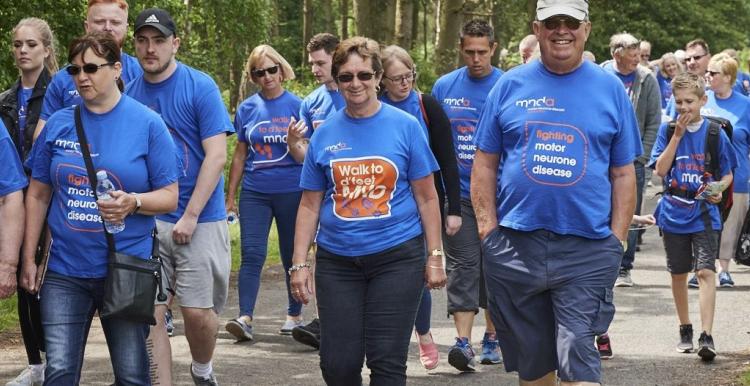 What is motor neurone disease?
Motor neurone disease (MND) describes a group of diseases that affect the nerves (motor neurones) in the brain and spinal cord that tell your muscles what to do. 
With MND, messages from the motor neurones gradually stop reaching the muscles. This leads the muscles to weaken, stiffen and waste. MND can affect how you walk, talk, eat, drink and breathe. Some people also experience changes to their thinking and behaviour. However, MND affects everyone differently. Not all symptoms will affect everyone, or in the same order. Symptoms also progress at varying speeds, which makes the course of the disease difficult to predict.
MND is life-shortening and there is no cure. Although the disease will progress, symptoms can be managed to help achieve the best possible quality of life.
There is a 1 in 300 risk of getting MND across a lifetime. It can affect adults of any age, but is more likely to affect people over 50.
There are approxiatmely 240 people living with MND across Greater Manchester. As this is not a common disease, general health and social care professionals may not see many cases of MND. This means it is important to seek out specialists who have appropriate experience in its treatment and care – usually with referral to neurological services.
Manchester and District Branch
The branch is managed by dedicated volunteers, mostly with personal experience of MND, and aims to offer support in the local area to those living with MND, their Carers, families and friends. More volunteers are always welcomed, the branch has a thriving and active committee managing the area.
The branch holds regular open meetings on the last Monday of the month from 2.00pm - 4.00pm at the Brookside Garden Centre, London Rd N, Poynton, Hazel Grove, Stockport SK12 1BY
For more information about the different events and activities organised by the branch in order to provide support, raise awareness, and fundraise on behalf of people living with MND, please contact us.
Help and guidance 
Help and Guidance is available from Branch volunteers (including Association Visitors), and it's a chance to discuss any concerns people may need advice on. Open to all who wish to attend
Association visitors: these are the volunteers who will go out to see people living with MND, helping to offer support and guidance. Mostly former carers with experience. We are always looking for more, to support our aims of ensuring all living with MND in our branch area get the best support they can from us.