October 2021 Campaigns & Awareness Days
The latest events and campaigns for October 2021.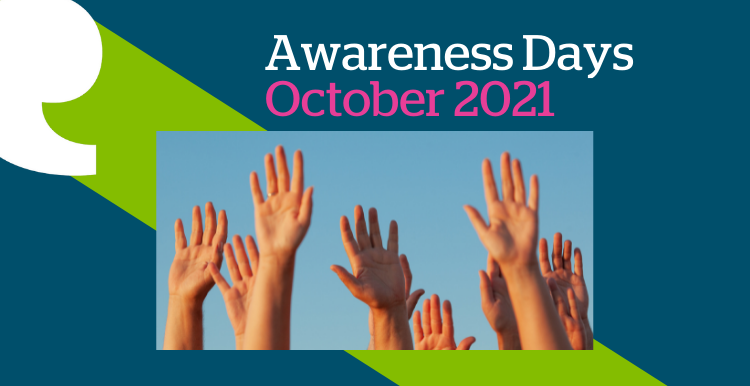 To find out more information on a certain campaign or awareness day, click on the pink heading text.
Note all information may not be correct.
Date: All of October
The 2021 Big Draw Festival theme, Make the Change, is a timely development on last year's exploration into the relationship between people and our living environments. In 2021, we desire to take action, to explore and discover ways to live in balance with the world around us, to reconnect with each other and create a better world for future generations.
Against the flux and events of last year we have all shared our collective experience of what it means to be human, with all its commonality, vast differences and diversity.
---
Date: All of October
October is ADHD Awareness Month
That's a whole month devoted to sharing reliable information about ADHD based on science and peer-reviewed research.
ADHD awareness is not just for the month October, of course. As people living with ADHD, or working with those with ADHD, we have the opportunity to be leaders in our local and online communities as we shine a light on ADHD, providing trustworthy resources all year long!
This year's theme is
Reframing ADHD: Discovering New Perspectives
---
Date: All of October
---
Date: All of October
Every October, people all over the world show their support for people affected by breast cancer. Our work's always important, but October is when we get to really shout about it.
For months, the coronavirus put many areas of breast cancer on pause. Now more than ever, we need people, communities and businesses across the UK to help us press play on breast cancer research and care.
From campaigning, volunteering and fundraising, to our life-changing care, support and world-class research - we're going all out to raise money, raise awareness and make sure people affected by breast cancer know we're here for them.
---
Date: All of October
Go Sober this October
To do whatever it takes to help support people living with cancer
What is Sober October?
Sober October encourages people to go booze-free in October to raise money for Macmillan Cancer Support, who need your support now more than ever.
Why should I go Sober?
By going Sober this October, you'll be raising vital funds for Macmillan, so we can continue providing much-needed physical, financial and emotional support to the millions of people living with cancer. We need you to do whatever it takes to go as sober as you can.
---
Date: All of October
Let's Talk About Cholesterol this October to mark National Cholesterol Month.
HEART UK Chief Executive, Jules Payne says "the cholesterol charity wants to have one million people involved in the campaign.Using the powers of social media HEART UK is running an ambitious awareness campaign to make people more aware of cholesterol and how to it can be best managed."
---
Date: All of October
Lupus Awareness Month takes place during October in the UK every year. It is an important opportunity to raise awareness of the disease amongst the public and medical profession as well as improving the understanding of the impact that lupus can have.
By making people more aware of lupus you can help control its impact. We need your help to raise awareness of lupus, its symptoms and the effects it can have on people's lives this Lupus Awareness Month.
---
Date: Friday 1st October
---
Date: Monday 4th -  Sunday 10th October
Dyslexia Week 2021 will be taking place from Monday 4 October - Sunday 10 October this year.
We know that dyslexia comes with many challenges, but many people in our community feel like their struggles are unseen. Because dyslexia itself isn't visible, individuals with dyslexia often feel unsupported, unwanted, invisible. From the child at school struggling to keep up with the rest of their friends, to the office worker feeling like they don't belong.
Dyslexia also too often goes hand in hand with other invisible challenges. People can struggle with their mental health. There can be discrimination in the workplace. Legislation fails to consider the dyslexic perspective. Under-represented groups become lost.
That's why this dyslexia week we are focussing on Invisible Dyslexia, to explore the entire theme of visibility within our community. We'll highlight the importance of mental health, increase visibility of underrepresented groups, and raise serious issues of dyslexia being overlooked within education and the workplace.
---
Date: Thursday 7th October
This year's National Poetry Day is on 7 October 2021. The theme for National Poetry Day 2021 is Choice.
---
Date: Monday 11th - Friday 15th October
Legs Matter Week this year will be 11-15 October 2021
Are you ready to take charge? There are lots of things we can do to take charge of our leg and foot health and start feeling our best again.
---
Date: Monday 11th - Sunday 17th October
---
Date: Monday 11th - Friday 15th October
National Work Life Week is an opportunity for both employers and employees to focus on wellbeing at work and work life balance. Employers can use the week to provide activities for staff, and to showcase their flexible working policies and practices.
---
Date: Friday 15th October
World Values Day on 21st October is an annual campaign to increase the awareness and practice of values around the world.
Values are what matter most to us. They are our motivators, the passion in our hearts, and the reason we do the things we do.
This year our theme is Reconnecting.  We are all living through a time of enormous uncertainty and disruption. This means we need to deepen our understanding of values and how they connect us with our sense of self, with others, and with the wider world.
So this World Values Day let's use our values to reconnect with one another and with what matters most in our lives.
---
Date: Saturday 16th - Sunday 31st October
The Family Learning Festival is a national celebration to mark and inspire a love of learning in family life. It takes place in October every year. It is co-ordinated by the Campaign for Learning, the organisation that aims to build a culture of learning everywhere.
Organisations of all types and sizes from schools and children centres, through libraries to museums and galleries put on brilliant and creative events, and showcase ideas and learning opportunities that families can do afterwards. Some Festival events are organised across local areas.
Learning as a family can help us to become confident, lifelong learners with all the benefits that brings - from better health to being happier. Family learning supports children to achieve at school. It can be transformative, helping us to find new passions and interests, and realise our aspirations through further learning.
---
Date: Monday 18th October
"The theme for World Menopause Day 2021 is Bone Health. The White Paper will be published in the October 2021 issue of Climacteric. Translated versions of the paper"
World Menopause Day is held every year on the 18th October. The purpose of the day is to raise awareness of the menopause and the support options available for improving health and wellbeing.
---
Date: Friday 22nd October
BREAST CANCER NOW'S WEAR IT PINK DAY
On Friday 22 October 2021, we will wear pink. Raise money. And help make life-saving breast cancer research and life-changing care happen.
If there ever was a time to put on that pink top, proudly drape that pink feather boa around your neck or pull up those pink socks, it's now.