November 2021 Campaigns & Awareness Days
The latest events and campaigns for November 2021.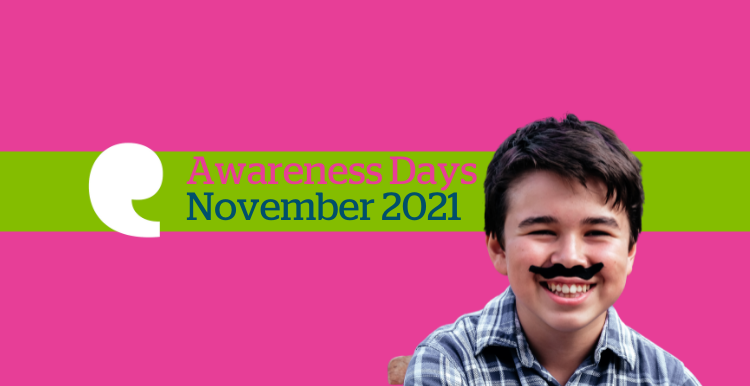 To find out more information on a certain campaign or awareness day, click on the pink heading text.
Note all information may not be correct.
Date: 1st - 7th November
The theme this year is #AdvocacyinAction. We want to remind people about what advocacy is, how it works best and how it has already helped people in our communities to live their lives.
During the campaign we will be theming each day around different principles from the Advocacy Charter.
We want to make sure that people in your communities know what is available and how you can help them. We also want to remind commissioners why good quality independent advocacy is essential to people in our communities.
---
Date: All of November
Mouth Cancer Action Month is held in November every year and is supported by the Mouth Cancer Foundation and the Oral Health Foundation. Get ready to raise awareness! Contact us to receive FREE mouth cancer information, awareness materials and merchandise.
---
Date: All of November
Movember fundraisers are a global community of fired up Mo Bros and Mo Sisters – aka rock stars making a difference in mental health and suicide prevention, prostate cancer and testicular cancer.
Your donation could help save a father, a brother, a son, a friend, a partner, a man's life.
---
Date: All of November
November is Pancreatic Cancer Awareness Month and you could help us to get closer to a breakthrough in early diagnosis and put a much needed spotlight on the disease.
November is Pancreatic Cancer Awareness Month, known to many as 'PCAM'!
It's a chance for the pancreatic cancer community to come together to raise vital funds and awareness, remember loved ones who have sadly died of pancreatic cancer and to acknowledge those living with or beyond the disease.
Pancreatic Cancer Awareness Month started in the UK in 2011 and evolved from Pancreatic Cancer Awareness Week and other similar projects from the United States of America. PCAM brings together all the pancreatic cancer charities and groups from around the world into one united, dedicated and hardworking international team- to transform the future for those affected by pancreatic cancer.
Your support this November could help us to get closer to a breakthrough in early diagnosis and put a much needed spotlight on the disease.
---
Date: 1st - 5th November
International Stress Awareness Week was created in 2018 to raise awareness about stress prevention. It attracts media attention worldwide. The highlight is ISMAUK's Online Global Stress & Wellbeing Summit, opening on International Stress Awareness Day 3rd November. Over 25 speakers will take part in panels, keynotes, and more.
---
Date: 3rd November
National Stress Awareness Day was set up by the International Stress Management Association, with the mission of raising awareness of the effects of psychological distress in the workplace and strategies to address it.
---
Date: 4th - 9th November
National Pathology Week (NPW) is our annual celebration of pathology, when we highlight the important contribution pathologists make to healthcare. Working in partnership with pathologists and laboratory scientists, our programme of events and activities aims to engage people of all ages, and improve public awareness and understanding of how pathologists and scientists diagnose disease.
---
Bonfire night
Date: 5th November
---
Date: 8th - 14th November
When is North West Sexual Violence Awareness Week?
The North West Sexual Violence Awareness Week will take place from 8-14 November 2021.
Objectives
Increase public insight and information on sexual violence and the support services available to survivors across the North West.
To raise awareness of sexual violence and what it is across the North West.
To raise awareness of the services available to sexual violence victims within the North West.
To ensure that each contact point for a survivor to report is streamlined and access to information similar.
To make the information on sexual violence services easily accessible and concise.
What's happening?
Throughout North West Sexual Violence Awareness Week, sexual violence services across North West England will be promoting their local sexual violence support services through several activities and outputs. From Monday 8 November until Friday 12 November, each county will be hosting their own dedicated event/activity to raise awareness within their communities.
Wednesday 10th November = Greater Manchester
---
Date: 8th - 12th November
Want to talk about money in your organisation? Use our participation pack to help you kickstart a conversation in any walk of life.
Who?
Alcohol Awareness Week is coordinated by us, Alcohol Change UK. Over 4,000 public health teams, workplaces, GP surgeries, pharmacies, hospitals, charities and other community groups across the country have signed up to take part. It's easy to get involved - just follow the sign up link at the top of this page!
---
Date: 14th November
World Diabetes Day (WDD) was created in 1991 by IDF and the World Health Organization in response to growing concerns about the escalating health threat posed by diabetes. World Diabetes Day became an official United Nations Day in 2006 with the passage of United Nation Resolution 61/225. It is marked every year on 14 November, the birthday of Sir Frederick Banting, who co-discovered insulin along with Charles Best in 1922.
---
Date: 15th - 19th November
Anti-Bullying Week is coordinated In England by the Anti-Bullying Alliance and takes place from 15 to 19 November 2021 and it has the theme One Kind Word. The week will begin with Odd Socks Day supported by CBBC and CBeebies star Andy Day and his band Andy and the Odd Socks.
ODD SOCKS DAY - 15th November 2021
---
Date: 15th - 21st November
The theme of Road Safety Week 2021 is ROAD SAFETY HEROES, celebrating the heroic work of road safety professionals, and explaining how we can all play a part in making journeys safer for everyone.
---
Date: 15th - 21th November
Alcohol Awareness Week is a week of awareness-raising, campaigning for change, and more. Alcohol Awareness Week 2021 takes place from 15-21 November on the theme of Alcohol and relationships.
---
Date: 17th November
In 2021, Blue Wednesday takes place on November 17th and we are asking you to share one very simple message….
A self check for mouth cancer takes 45 seconds and can save your life.
For Blue Wednesday we want to encourage as many people as possible to check their mouth for the early warning signs of mouth cancer.
Help us get more people regularly checking themselves for mouth cancer because early diagnosis is vital for beating the disease.
Spotting mouth cancer early can significantly change a person's quality of life.
You can take part in Blue Wednesday by sharing information about how to conduct a self-check at home.
---
Date: 17th November
World COPD Day 2021 is on Wednesday 17 November. This year we want to support you to look after your lungs and live well with COPD.
Life with COPD can be difficult. It's a progressive condition, which means there is currently no cure and everyday tasks can become a challenge.
---
Date: 18th November
The third Thursday of November is World Pancreatic Cancer Day – so in 2021 that's 18th November. On this day people across the globe come together to raise awareness about the symptoms and risks of the disease, and the urgent need for earlier detection. So why not join in to share information on the disease, dress in purple or light up landmarks or your home in purple.
---
Date: 25th November - 9th December 
The Global 16 Days of Activism Against Gender-Based Violence against women is an international campaign originating from the first Women's Global Leadership Institute. "16 Days," as it has become known, was launched and continues to be coordinated by the Center for Women's Global Leadership.
---
Date: 25th November
Carers Rights Day 2021 will be held on 25 November
Whether you are a new carer or have been caring for someone for a while, we believe that it's important that you understand your rights and are able to access the support that is available to you as soon as you need it. Many people are taking on more caring responsibilities for their relatives and friends who are disabled, ill or older and who need support. Each year, Carers Rights Day helps us:
- ensure carers are aware of their rights
- let carers know where to get help and support
- raise awareness of the needs of carers.
---
Date: 25th November
LET'S END MALE VIOLENCE AGAINST WOMEN TOGETHER
White Ribbon UK is a leading charity engaging with men and boys to end violence against women.  Please support our important work - we want to stop violence before it starts.