IRU - Monday 29th November 2021
Healthwatch Stockport's Information Round-up publishing every week. Read about the latest news, updates and events in Stockport.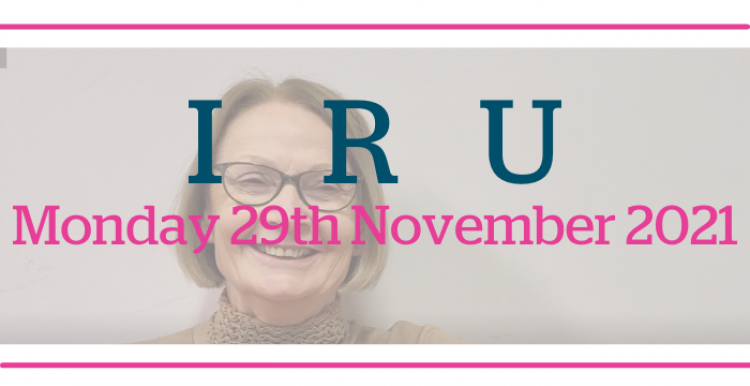 Hello and welcome to this weeks Stockport Information Round-up! 
Remember if you want to receive the link weekly then you can sign up here and you will get an email every week with the link as soon as it is public. 
If you ever want to promote your work, event or you would like any information circulated please contact Liam at comms@healthwatchstockport.co.uk.
Please feel free to share far and wide!
Face coverings to be compulsory
Message from the Department of Health and Social Care
Face coverings will be compulsory in shops and on public transport from tomorrow (30 November), unless exempt. This is one of the new precautionary measures being introduced to prevent the spread of the #COVID19 variant Omicron.
---
Follow our Social Media pages
Are you following the Healthwatch Stockport socials?
You find our Twitter, Facebook, Instagram, Linkedin and YouTube here.
Find our latest poll on Twitter
'When did you last use a health or social care service in Stockport?'
---
Your help needed - Please share these surveys far and wide
Healthwatch Stockport are running a number of surveys and feedback forms, we would really appreciate it if you could circulate these surveys or add them to your newsletters or e-Bulletins.
While you wait - waiting for hospital treatment
Are you waiting for hospital treatment? We want to hear from you and your experience while waiting.
Take the 'While You Wait' Survey
Share your views - GP Appointment Feedback
Have you been to your GP in the last 12 months? We have been hearing both positive and negative things, let us know about your experience.
Feedback about your last GP Appointment
---
Meet your Lived Experience Panel Members in Stockport
Want to know more about the Lived Experience Panel?
---
Patient Experience from Stepping Hill
Healthwatch Stockport would like to take this opportunity to let you know about the patient experience of James Duckett who was in Stepping Hill in July 2021 - in this video he explains his experiences while at Stepping Hill Hospital. Watch below!
---
The Latest Statement from the Director of Public Health
Message from Alison North (Stockport Council)
Yet again we have seen a rise in positive COVID-19 cases, with rates at 387.8* per 100,000 or around 162.6 per day. See the latest published data online.
(* the latest figures for Stockport validated on 26.11.21)
You can take a look at the latest statement from Director of Public Health, Jen Connolly, here.
This week the DPH statement includes the second in a series of guest pieces written by people in organisations which have been involved in the Coronavirus response in Stockport. Belinda Harman-Craddock, Testing Team Leader for Stockport Council's Covid Advice and Testing Team, writes about vaccine uptake calls which her team has been undertaking.
Advice from the Government has recently changed around asymptomatic Lateral Flow Device (LFD) testing for most of the population. We are now encouraged to use tests to manage periods of risk, such as after close contact with others in a higher risk environment, such as crowded and enclosed spaces where there are more people who might be infectious, or before spending prolonged time with a more vulnerable person at higher risk of severe illness if they were infected.
This has been the focus of our social media comms this week and we will continue to be sharing the Covid's still here messaging, asking residents to get a vaccine when called – especially to get two vaccines and the booster, to continue lateral flow tests along with the hands, face, space and ventilation messages.
The 'Stockport Safe and Well this winter' campaign is continuing so keep sharing these on your own channels and with your employees. There's also lots of information and top tips on our dedicated webpages
Thank you to you for supporting the One Stockport economic recovery campaign.
It would be great if you can share this on your comms channels and with your staff. The  One Stockport website has toolkits available for you to use too.
---
Sector3 compiling Christmas provisions list
Sector 3 are very kindly, compiling the list for Christmas groups, meals & provisions this year.
If you have anything to add to the list, or know of a group/organisation that does have something going on,  for before, during or just after the Christmas period for Stockport residents, please email info@sector3sk.org
Once the list is completed, the Christmas provision list will be accessible on the Sector 3 website.  
For any further info please email  info@sector3sk.org
---
Two new services run by StartPoint - starting in December
Message from Clara Jones (StartPoint)
Please see below the info on some new services offered from Startpoint. For more info please contact clara@startpoint.org.uk 
Free, 1-1 information and signposting for HMRC products.  
Bookable 40-min sessions are available from this week.
Are you eligible for Child Tax credit, working tax credit or child benefit? Do you need help understanding your National insurance or tax status? Are you struggling to find the right Self-assessment form as you are self-employed? Are you baffled which website to go to?
We offer free, impartial and confidential advice so you can access these services independently and with confidence.  
We can't help with UC claims, PIP or attendance allowance, we may signpost you to another service.
Where?
Times may vary slightly – book your appointment in advance with Carl.
Weds: 10am – 1pm  - Startpoint café community room, 4 Woodley precinct, SK6 1RJ
Thurs: 9.30am – 5pm Cornerstone (Stockport homes building) 2 Edward St, Stockport SK1 3NQ
Friday: 10am – 1 pm The Hub, 16-22 Merseyway, SK1 1RA (where Argos used to be)
Starting 1st Dec 2021 and running until the end of March 2022.
Contact carl@startpoint.org.uk or phone 07938 543 390.
Please leave us a message, Carl works part time so replies may not be immediate.
Get online at the right time
Free computer workshops for people who are eligible for work.
Starting from 9th December – sign up now!
Learn skills for work and to help with your job search. 8 taught sessions plus access to free online courses.
Topics include: presenting yourself online, social media and searching for work, writing for an online world, help to write and send CV's to employers using your device – and more.
We can link you to our digital lending library if you don't have a device to use for these workshops, depending on your circumstances.
When?  
Thursdays 11 – 12pm at Bridgehall community centre. 9th December 2021 – 10th February 2022 at Bridgehall community centre, Siddington Ave, Stockport SK3 8LX
Thursdays 2-3pm at Cornerstone (Stockport homes building) from 6th January 2022 – 24th February 2022 at Cornerstone (Stockport homes building) 2 Edward St, Stockport SK1 3NQ
Contact: james@startpoint.org.uk or call 07537 127095. Leave us a message and we will get back to you.
---
Community palliative and end of life care training: symptom management
Message from Laura Fox (St Ann's Hospice)
St Ann's Hospice has launched a new series of free online training for community-based health and social care providers, including care and nursing home staff.
Symptom management is part of palliative and end of life care. It aims to relieve distress – whether that's physical, psychological, spiritual or social distress – to help improve a person's quality of life.
This free online training session will help you:
Understand the principles of symptom management.
Explore common symptoms that people can experience at the end of life.
Recognise practical steps that can be taken to help manage these symptoms.
You can sign up for training and watch an animation about symptom management at www.sah.org.uk/community-training/ 
---
You're Invited: Stockport's first virtual Inequalities Summit
Message from Polly Riggs (Stockport Council)
How can we all play our part in creating a more equal Stockport? Join Stockport Council for their first Inequalities Summit to find out!
In Stockport, addressing inequality is high on the agenda. We are the 8th most polarised borough in England, and creating a fairer and more inclusive borough is one of our key priorities under the One Stockport Borough Plan, published earlier this year.
The event takes place on Friday 10th December, from 10am – 4pm. You are welcome to stay for all or part of the day. Tickets are free and can be booked via Eventbrite.
Professor Sir Michael Marmot, Director of the University College London Institute of Health Equity and author of Build Back Fairer: The COVID-19 Marmot Review, will open the event. Keynote speakers include Professor Arpana Verma, Clinical Professor of Public Health and Epidemiology at the University of Manchester.
For more information on each session, and to book your ticket
---
Retrofit bootcamp course 6th December and dates for January 2022
Message from Chris Hughes (Stockport Homes)
Procure Plus are running Retrofit Bootcamps – see email below and attached flyers for details.
---
Learning Disability vaccination poster
Do You Know any Individuals who have a Learning Disability and need a Covid or Flu Vaccine? Download the poster below
---
Christmas Bauble Poster
Are you affected by Domestic Abuse? Download this Christmas Bauble Poster and share
---
Covid-19 & YP Mental Health: "Nothing Else" Digital Theatre Preview
Message Hannah and Lydz (Access 27)
After a successful preview earlier this month, and due to high demand, we are emailing to invite you to our upcoming event: "Nothing Else" a live digital theatre performance exploring the impact of Covid-19 on young people's mental health. "Nothing Else" was created alongside a steering group of front-line professionals and highlights the issues they were presented with throughout the pandemic.
The preview is a chance for you to get a taste of our work, and hear about what is included in the training aspect of the package.
The event is running online on Friday 3rd December 10-11am, and is free to attend!
More details are included in the attached flyer.
Spaces are limited so please contact us if you would like to book a place.