Enter & View Report - Cherry Tree House
Healthwatch Stockport report on their findings at Cherry Tree House.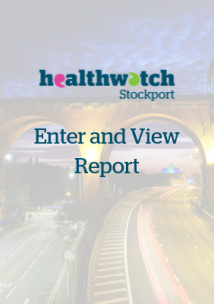 Summary
Healthwatch Stockport works with Stockport Metropolitan Borough Council (SMBC) to monitor the standard of care for Adult Social Care for Stockport residents. As part of this work programme, Healthwatch Stockport will visit care homes identified by the Care Quality Commission (CQC) and SMBC whose care and working practices need to be improved. Cherry Tree House was last inspected (at the time of the visit) by the CQC in November 2016 and received a "Good" rating. The purpose Enter and View visit was to establish evidence that the service and care provided to residents was improving.
On the 20th February 2017 three Enter and View representatives (Gerry Wright, David Atkinson and Tony Johnson) from Healthwatch Stockport visited Cherry Tree House to speak to staff and residents about their views and experiences of Cherry Tree House.
Questions for residents related to the care that they received, the activities they did and enjoyed at Cherry Tree House and whether the care was suitable for their needs Questions for staff related to the care they offered, the challenges they faced and keeping residents as independent as possible.
Key Findings
1. When speaking to residents they all gave the home glowing reports, all were happy with their decision to move into the home.
2. Whilst at the home, there were many visitors. We spoke to a few who were either family or friends. They found the home to be caring and homely. Many stated they were pleased to get their loved ones in to Cherry Tree House.
3. Other family members who were visiting stated that if there were any problems they were listened to and addressed immediately. The team saw whole families arrive with children to visit residents and all were welcomed.
Coming to Cherry Tree House has helped mum enormously. Where she was previously was making her worse, now she putting on weight and thriving.