Healthwatch Stockport's Annual Report from 2018/19. Inform. Involve. Influence.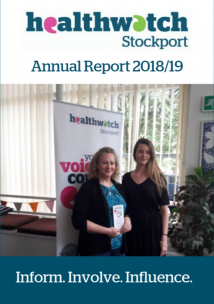 Summary
I am pleased to report on another exciting and progressive year for Healthwatch Stockport in 2018-19. I am delighted to report, that with the help of Healthwatch England we now have a recognised Information and Signposting Service, after
continually raising it as an important statutory requirement for Healthwatch across the country.
In addition to our core work I am very proud of the work undertaken by our Enter and View Team who completed 14 Enter & View visits and spoke to nearly 120 people
about dental services and access to dental care. An additional 98 people
took part in our online survey and a further number of care homes took time out to take part in a telephone interview about the dental needs of their residents.
We would like to thank our committed staff, volunteers and our board members [all volunteers] for all their hard work and support this year. Our gratitude goes to our operational team for monitoring and scrutinising health and care
services, through representation and task and finish groups. They look deeper into issues which have come to the fore because of the information and feedback we receive from our wider members, partner organisations and members of the public.
If you have taken the time out to take part in a survey, focus group or given feedback, we thank you for your support and we look forward to working with you in the coming year. Please do get in touch with the office if you would like to become
involved in the work of Healthwatch Stockport 
Key findings
1 - Majority of people registered with a dentist in Stockport said that the current system is working for them. 
2 - Patients who are not registered with a dentist are finding it increasingly difficult to find a dentist willing to take new patients. 
3 - Healthwatch Stockport have received over 80 requests for information and we signposted enquirers to 24 partners.
If you need this report in a different format, please contact the office.