Difficulties accessing NHS Dental Services in Greater Manchester: a joint report
A joint report from local Healthwatch's across Greater Manchester around access to NHS Dental services.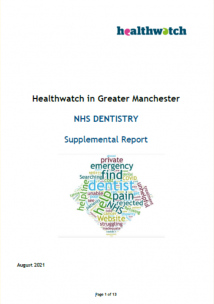 Key findings for Greater Manchester
1) Across Greater Manchester local Healthwatch organisations recorded 102 enquiries regarding NHS dentistry in 2019/20. That figure increased to 650 in the period April 2020 to March 2021. A six fold increase.
2) Feedback from the public was analysed by theme. Whilst some enquiries raised concern regarding more than one theme, only 2.3% of overall enquiries in 2020/21 related to treatment, cost or health screening alone. 97.7% of enquiries raised issues of accessibility.
3)All services have been impacted by the Covid 19 Pandemic and therefore it is reasonable to make an assumption that both the increase in enquiries and the concerns regarding accessibility have some correlation with the way services have responded. The greatest proportion of enquiries were recorded in Spring 2021 - during the longest and most recent lockdown in England (38.3% of all enquiries).