Long COVID Feedback Report
We have gathered the views from people how have been suffering from Long COVID and compiled them into a short report.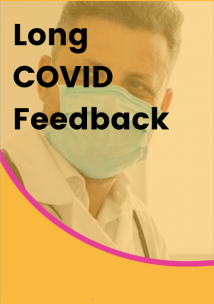 Summary
From the 1st January 2022 to 1st March 2022 we asked people to take part in our short survey around Long COVID. 
37 people took part in the survey who have/ think they are living with Long COVID.
Facts
The majority of people who had taken the survey felt their mental and physical health had been impacted.
More than two thirds of respondents have experienced extreme tiredness since Long COVID.
Just under half the people who taken part in the survey have been diagnosed with Long COVID.
If you need this report in a different format, please contact the office.
Long COVID Peer Support Group
Have you had COVID-19 and are still struggling with symptoms such as fatigue and difficulty concentrating? Join Stockport's COVID support group. It meets every Wednesday online and once a month you can meet up at Vernon Park Cafe.
Contact 
To join, please contact Marie O'Malley, marie.omalley@stockport.gov.uk
You can find more Long Covid support here.